Bear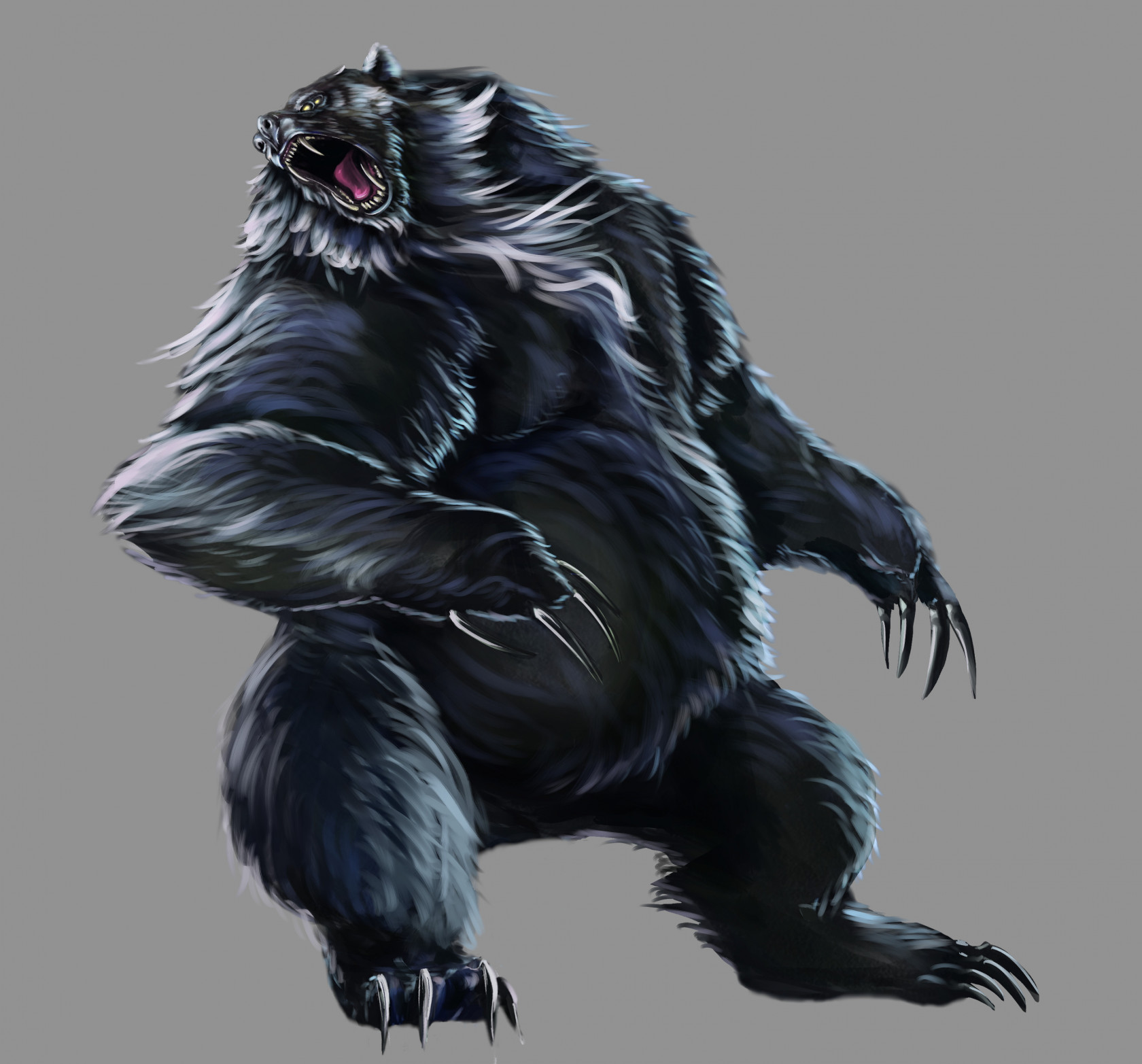 Represents: Gluttony, Ferocity
Bears are motivated mostly by their insatiable hunger. They are never satisfied. While they are large, they are not slothful and do not tire easily. Motivated by their hunger, they can have bursts of speed when moving toward their targets. Being well fed, Bears have exceptional Endurance.
Special Abilities
When using a known Maneuver, Martial Mastery grants the Bear a bonus to Precision (or Guard, whichever is applicable) equal to the Mastery Level of the Maneuver. 
Strength in Struggle reflects the Bear's toughness by reducing Wear related to Strikes received by 20%. Wear related to Strikes dealt by a Bear is increased by 20%.
At 2nd Domain, the Bear also gains +1 to all Resist Checks. This increases to +2 at 3rd Domain and +3 once becoming a Bear Beast.

Being motivated by their Gluttonous Hunger, Bears can Move 2" toward a target within 14" without spending any Action Points. This can be done once each Activation the Bear has and the distance is not reduced by Defensive Stance. The distance is extended or reduced by other effects that extend or reduce distances travelled, such as the Songs Winds of Heaven and Tempest. Gluttonous Hunger will not apply if the Bear is Faltering for their entire Activation.
Weapon Effects
Bears use their claws and teeth to Strike their enemies. While these do cut, pierce, and slash, the massive paws and weighty jaws behind them cause them to add Falter or Exertion with exceptional or passionate attacks. 
| | | |
| --- | --- | --- |
| Weapon Effect | Standard Effect | Passion Effect |
| Claws & Bite | 12 = Falter:2 (1/Strike) | 1 Exertion x Target's Tier |

Maneuvers
Bears can Charge further toward a target of their Strikes or can cut through their target's defenses with a Momentous Strike them. At 1st Domain the Bear has these at a Mastery Level of 2. This increases to Mastery 3 at 2nd Domain, Mastery 4 at 3rd Domain, and Mastery 5 upon becoming a Bear Beast.
Charge  (3 AP)
Charge allows the elohim to Move a greater distance while making a Strike, generally toward a Target. At Mastery Levels 4 and 5, Charge also grants additional Force for the Strike.
Charge may be employed without actually Striking a Target. If doing so, Exertion is still gained. Unlike other Strikes, the elohim can only Strike a Target within Range from where they end the Charge.
Momentous Strike  (4 AP)
Momentous Strike is a 4 Action Point Strike that cuts through the Target's defenses. Guard from Defensive Stance, Parry, and Grand Parry are ignored. Momentous Strike also ignores some Stops. At Mastery Level 4, 1 Effect is ignored. At Mastery Level 5, up to two 1 Effects are ignored.
Momentous Strike is a burdensome blow and may only be performed once during an Activation. Momentous Strike cannot be performed while in Defensive Stance.
Attributes

Bears are treated as Warriors and also have exceptional Endurance, receiving an additional 21 at 1st Domain, this increases to 40 at 2nd Domain, 80 at 3rd Domain, and 144 once becoming a Bear Beast.
Size and Mutations
Bears fit the standard rules of Occupying Space for elohim. However, the height is of course skewed when not standing upright. Also, like all bestial elohim, Bears will gain varying Mutations when increasing in Tier.
The example below shows a sampling of Bears increasing from 1st Domain to Bear Beast. In this instance, the Mutations gained in order are: Crushing Claw, Leathery Skin, and Keen Eyes.