Messengers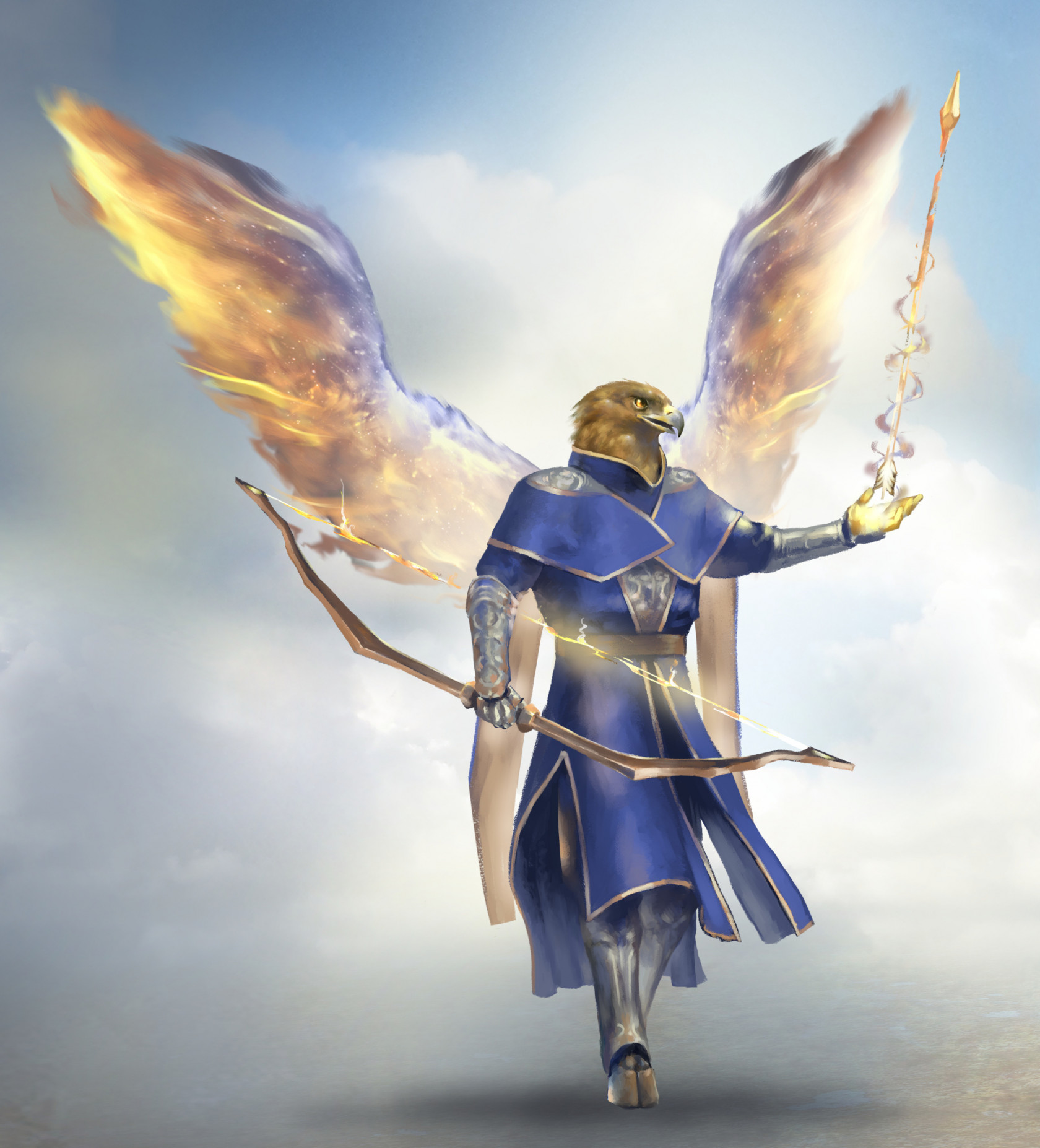 Messengers are the communications force within the Armies of Heaven. They possess incredible Swiftness and Control (Self-Control). They certainly have the Control to stay out of unnecessary Conflict.

When they do engage an opponent, most Messengers prefer to engage them from afar using a Bow or Sling. This is because they do not have an abundance of Endurance or Resolve to stand firm in the face of adversity. 
Messengers have a Passion to accomplish their missions in service to Elyon. They are often tasked with delivering news or observing and bearing witness to what they have seen. They are also sent to appear to humans in dreams, visions, or even in manifested form. In setting about their tasks, Messengers will always try to find the most efficient way to do things. "Work smarter, not harder," is the Messenger's unspoken motto. Their increased Perception helps them in this, allowing them to more easily Perceive information that can help them and their allies make the best decisions possible. Their skill can also help them avoid revealing their own presence before they wish it known. Messengers often tend to be loners if for no other reason than others must struggle to keep up. 
The Messenger has the face of an Eagle. The Eagle is representative of deity. It is also an efficient and perceptive hunter, soaring high above all things and spotting the smallest of prey. 
Situational Awareness & Trained Eye
Messengers also have a couple special bonuses. Situational Awareness gives Messengers a Perception of 7 allowing them 7 Adjustments in their Favor when Perceiving or being Perceived. Multi-Ordered Messengers gain only 3 Perception allowing them 3 Adjustments.
Situational

Awareness

Tier:1

Tier:2

Tier:3

Tier:4

Messenger

7 base for "to Perceive"

and "vs. Perceive"

10 base for

Perception

13 base for

Perception

16 base for

Perception

Multi-Order

Messenger

3 base for "to Perceive"

and "vs. Perceive"

6 base for

Perception

9 base for

Perception


12 base for

Perception

Trained Eye lets a Messenger choose a Target to watch. The Messenger can roll a Perception Check each Segment in which he is using  Action Points until he succeeds. Once succeeding, the Messenger may make 1 Adjustment to any Strike rolls made by the Target against the Messenger and any Resist Checks the Messenger makes against the Target. Also, the Messenger can ignore Guard provided to the Target by Defensive Stance. The Messenger may change watched Targets once in each Segment, but will need to succeed a Perception Check against the new Target before getting the bonus again. If the Messenger loses line of sight with the Target for an extended time, Trained Eye may be lost.
Trained Eye

Tier:1

Tier:2

Tier:3

Tier:4

Messenger

1 Defensive Adjustment and 

ignore Guard from Defensive

Stance on 1 Perceived Target

2 Defensive

Adjustments

2 Perceived

Targets

3 Defensive

Adjustments

Multi-Order

Messenger

1 Defensive Adjustment and 

ignore Guard from Defensive

Stance on 1 Perceived Target

no increase

2 Defensive

Adjustments

no increase

Messenger Disciplines
After reaching at least Rank:3 Messengers can consider joining one of these Disciplines:
Evangel
Watchman
Witness
Messenger Seed Multiplier
Messenger's Seed Multipliers, meaning the amount of growth in a Basic Attribute for each Seed of Growth sprouted, are as follows:
Might          = x1.5
Swiftness   = x2.5
Control       = x3
Endurance = x1.5
Resolve     = x1
Passion     = x2